SG Widget is the number one Sendgrid Signup Form on the market but you may be wondering how it compares to the Subscription Widget offered by Sendgrid directly. This post aims to compare both widgets and present the positives and negatives of each.
Let's look at the features in detail.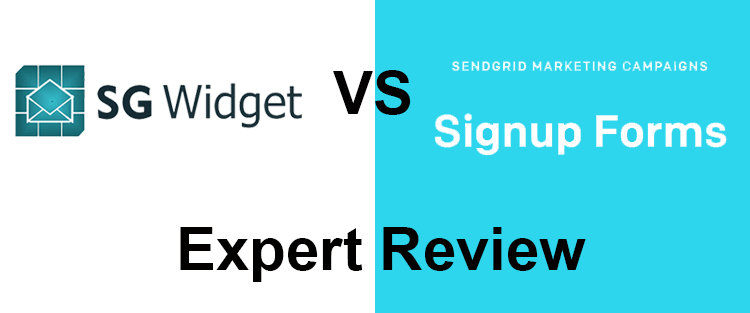 Contents
Account Creation
As Sendgrid's Signup Forms are a native part of their Marketing Campaigns product, creating an extra account is not needed. 
SG Widget requires users to create an SG Widget account and link that to Sendgrid but this unlocks many powerful features and the process is just a few clicks.
Verdict: Sendgrid edges this one
Installation
A quick setup is critical because website owners just want to embed a form and be done without having to write any code. Both SG Widget and Sendgrid's Signup Form are simple to add to any website with a copy and paste.
Verdict: Draw
Configuration
Configuring a widget on Sendgrid is easy but this is because they have limited options. 
The process is equally straightforward on SG Widget despite more configuration options being available. We strived to offer a smooth user experience because we know that if people can get started with our product quickly, they are more likely to become long term customers.  
Verdict: Draw
Ease of use
Sendgrid's Signup Form is simple so there are no problems using it for people that are familiar with the Sendgrid interface.
SG Widget has more features but is still easy to use because every field has help boxes to explain what they are for. We also spent a lot of time creating a nice UI and rich documentation.
Verdict: Draw
Prive-Value ratio
Sendgrid's service is free with all accounts but it has limited features. 
SG Widget is paid service because it offers many powerful features. The starter plan is €30 per year which is a small investment compared to the time it would take to develop the features yourself or pay a developer. 

Verdict: SG Widget
Customization
Sendgrid's form is very rigid and has minimal options to customize. Styling can be applied in the Sendgrid backend but custom fields and templates are not possible,

 On the other hand, SG Widget is 100% flexible. Everything can be tailored to your needs in the backend. We offer custom fields and templates, feedback messages in any language, redirect URLs, consent checkboxes and double opt-in. The form can be styled on the front end with CSS by replacing the default CSS we generate for you.

Verdict: SG Widget
User experience
Sendgrid's form is not responsive on the front end by default and requires styling to make it usable on mobile devices. It only offers feedback text in English so will be difficult for non-English speakers to decipher feedback messages. Worst of all, it is embedded inside an iFrame so the default view shows horizontal scroll bars.
SG Widget is fully responsive and offers custom feedback text so users in any language can interact with it.

Verdict: SG Widget 

Speed
The response times after a user clicks submit on a form are similar for both services. 

However, a negative aspect of Sendgrid's Signup Form is that it places an iframe on the website, which increases the page loading time. This can impact user experience and search engine ranking as nobody likes a slow website.
Verdict: SG Widget
Features
Let's compare the features side by side to see exactly what is offered by each service:
| Feature | SG Widget | Sendgrid Signup Forms |
| --- | --- | --- |
| Double Opt In | | |
| Consent Checkboxes | | |
| Extra Fields | | |
| Multilingual | | |
| Customizable | | |
| Welcome Emails | | |
| Custom Email Templates | | |
| Subuser Access | | |
| Post Signup Redirect | | |
| Analytics | | |
| Secure | | |
| Captcha's | | |
| Speed | | |
| Notifications | | |
| No coding needed | | |
The table speaks for itself. As you can see Sendgrid's signup for offers the basics but a crucial feature they are missing is Double Opt-In. This is simply not acceptable post GDPR and raises questions around the viability of their Signup Forms.
SG Widget offers Double Opt-In along with custom email templates, welcome emails, post signup redirects, consent checkboxes and lots of other features that make it more advanced in many ways.
Verdict: SG Widget
Security
Sendgrid's Signup Form uses an iFrame to dynamically generate the widget on each page load. If they ever went down, the widget may not load on your site.

SG Widget generates static HTML for you to paste onto your site. This means you have to copy over new HTML every time something changes but it also means that the widget will always render because it is a native part of your source code.
Verdict: SG Widget
Demo
Now that we've examined the features, you can cast the final vote by using the default version of both widgets and deciding which you think is better.
Sendgrid Signup Form
SG Widget
We are sure it was an easy decision! 

Conclusion
Sendgrid launched Signup Forms with their new marketing campaigns product in 2019. As Sendgrid customers ourselves, we used it briefly but quickly found that it wasn't flexible enough and didn't provide the features we needed to collect emails on our site. Features we view as essential like Double Opt-in, Custom Fields, Consent Checkboxes and the ability to style to our needs were missing. The roadmap for their widget also appears to be stagnant.
SG Widget is a feature-rich option for website owners that provides a professional-looking email collection experience for users. We are committed to continually enhancing the product and adding more features in response to user demand so we will always be one step ahead of the Sendgrid offering.
As you can see from this review, SG Widget is a better option for anyone that wants to collect emails professionally. 
 Give it a try today.