Today we're thrilled to announce our latest batch of features in SG Widget that we've been busy building over the last few months. They add even more powerful new tools for SG Widget users to collect email addresses on their websites.
We've listened to all of the feedback and requests received. As our user base grows we are finding that people are becoming more engaged and knowledgeable about our service. This means we receive more detailed feedback that allows us to build the features that people need.
Given everything that has been sent in, the main theme of this update is around customisation and giving you greater control over how your widgets look and perform.
We're committed to being the best SendGrid Opt-In Form on the market. These features help us get there.
Redirect URLs
The post signup process is an opportunity to impress your customers even more. Until now, SG Widget offered two options - showing a simple success message above the form if you use Single Opt-in and taking the user to a default SG Widget success confirmed page if you use Double Opt-in.
When users complete registration, you can now choose to send them to a landing page of your choice. This can be any page on the internet and allows you to create a flashy landing page to engage your users even more. Redirect parameters are added to the URL so you can take some action like updating your analytics or pushing users into a marketing segment.
Welcome Email
We've added a fourth option to the post-signup process that allows you to customise the flow even further. You can now send a welcome email to let users know they have made it onto your mailing list. It can be customised with basic HTML to look and feel as you like and can contain any text you wish in any language. Default English values are used if none are specified and these will serve you just fine if you don't have time to create new content.
Consent Checkbox
Knowing your customer and obtaining consent is very important post GDPR but some industries face stricter regulation than others and they may require a specific confirmation that a subscriber agrees with their policies.
It is now possible to add a checkbox underneath a widget that users must tick before they are allowed to click the submit button. A short message can be displayed beside the checkbox along with a link to a URL. Typically this will be a privacy policy page on your site. Compliance....SG Widget has you covered.

Preview
A common request from users was that they wished they could see the widget before it is deployed on the site. Well, now the widget details page contains a preview so you can see what the form will look like with basic styling. You can even test it by entering your email address.
We can't demonstrate what it will look like with custom styling because that will be applied in the code of your site but it allows you to get an idea of the general layout and functionality.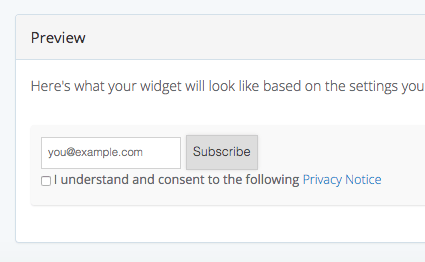 Documentation
We've designed SG Widget to be an intuitive tool that doesn't require you to read hours of instructions and setup tutorials. However, there are times when a little bit of guidance would help.
We've created a concise and informative documentation section that explains setup and every possible configuration option SG Widget supports.
Now there is no excuse not to get up and running quickly.
New Website
If you are reading this you will have noticed our flashy new website complete with examples, documentation and a blog. Make sure to follow it for tips and advice on SG Widget and Email marketing in general.
Wordpress
A lot of people have been writing in asking us if SG Widget works on Wordpress. The answer is always yes because SG Widget is just HTML so works on any website.
However, there was some confusion about how to install it because SG Widget is not a plugin. To make things easier we've written a blog post about how to install SG Widget on Wordpress and also offer a comparison with the Sendgrid WordPress Subscription Widget. It even contains a video!
After reading that you'll be in no doubt about how SG Widget is the best Sendgrid Widget For Wordpress. It's more flexible, easier to install and works like dream.
Coming Soon
We are continually improving SG Widget and adding features to help our own uses cases and those of our users. We consider every single item of feedback we get so don't be surprised if something you suggest is added to the tool.
One of the items we have received recently is the ability to add custom fields. If you would like to see this or have some ideas about how it should be implemented, let us know in the comments below.
Finishing Up
These new features make it easier than ever to set up a customised SendGrid Opt-In Form on your site with SG Widget. Follow our docs to see how to get started quickly.
Are there are features you will like to see in SG Widget? Is there any functionality that needs to be improved? Email in or let us know in the comments below.