If you are looking for a Sendgrid Subscription Widget for Shopify, you've come to the right place. SG Widget is an Opt-in Widget designed specifically for Sendgrid Marketing Campaigns that allows you to add an email sign up form to your Shopify store and link your site with Sendgrid.
It's easy to get started and integrate so you can have the entire process completed in about ten minutes.
Contents
Why should I use it?
You might be thinking to yourself that you already collect email addresses when users make a purchase but not everyone who visits your store buys something. It would be nice to have a way to get the emails of users that are just browsing or can't find exactly what they want such as someone reading your blog.
Of course, if you have very targeted marketing and high conversion rates for your traffic, perhaps you don't need to collect email addresses of window shoppers but most store owners don't have that luxury.
Where can I place it on my store
The question is, where would you like to place it?
SG Widget is just simple HTML and one link to a JavaScript file so there are no limitations to where it can be placed. Be sensible about it though and don't insert it somewhere that is going to impact negatively on the checkout experience like beside the Purchase button.
Most users place the widget in their footer because they see other websites doing that but unless there is a CTA or incentive around the form, the percentage of users that type their email address into this box will be very low.
We recommend you place it on a blog or guide page because people typically spend a longer amount of time on these pages. This means they are engaged in your content and if you offer some bonus or incentive for adding their email address, the number of people that do it will be much higher than those who add it to an unincentivized form in the footer.
Tip
For the best results, place it at the end of your content and offer a discount on the first purchase or access to exclusive content for users that join your mailing list. This is proven to increase sign up rates and gives you the option of marketing to these users with a follow-up sequence to try and convert them to paid in the future.
What can SG Widget do?
It can do everything you would expect a Sendgrid opt-in form to do.
Firstly and most importantly, it allows you to collect email addresses on your Shopify site and store them in a Sendgrid list in a clean and fast way. There are a wealth of additional features like Name Collection, Custom Form Fields, Redirect URLs and Multilingual translations. On top of that, it has options that allow you to stay GDPR compliant like Double Opt-In and Consent checkboxes. From a branding perspective, you have the ability to style the front end form with CSS and the option of customised email templates for Double Opt In and Welcome emails.
You can read more information on the features page.
That is only the current feature set. We are constantly improving SG Widget and adapting to our customers' needs so if you think there is something it needs to do that isn't available at present, get in touch and we'll see can we help.
Give It A Try
Here is a live widget for you to test out for yourself:
How to Add The Sendgrid Widget To Shopify
Now that you know what SG Widget is, let's get it installed on your Shopify site:
Create an SG Widget account
Generate Your Widget
Copy the code
—
From your Shopify admin, go to Online Store > Themes.
Click Actions > Edit code.
Click a file in the directory on the left to open it in the code editor.
Paste the snippet from SG Widget into the desired location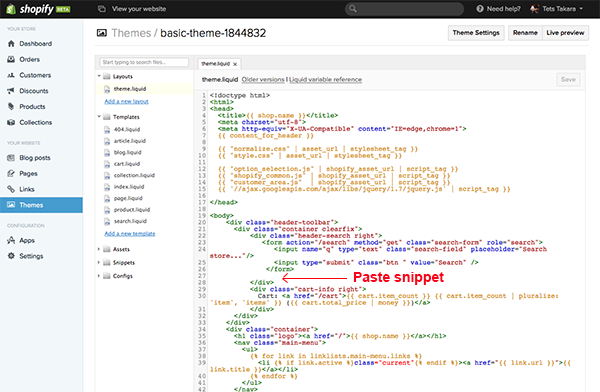 For more detailed instructions with screenshots, check out our docs
Your Sendgrid Widget for Shopify is now collecting email addresses and posting them to your Sendgrid list!
Updates you make from the SG Widget backend will automatically roll out to your widget instance. There are some changes that will alter the HTML but if this happens, you will see a message in the SG Widget backend that tells you to update your widget code.
Which Shopify Versions Are Supported?
All of them.
SG Widget doesn't depend on any specific feature of Shopify. It's simply a few lines of HTML and a link to an external JavaScript. We designed SG Widget to be a universal solution to email collection for Sendgrid so it can be added to any website, eCommerce platform or CMS like Wordpress, Drupal, Magento or Opencart.
Is It Secure?
You bet because we wouldn't have a viable business unless we could guarantee the reliability of our service. SG Widget is backed by SSL, Encryption, DDoS Protection, PCI Compliance, Domain Whitelisting and Backups. Our customers are mostly developers so if it wasn't secure, they would spot any weaknesses immediately.
Aside from being secure, it is important that data is handled correctly, especially since GDPR came into play in May 2018. Many companies have great security systems on the technology side but their practices around data handling let them down.
We are acutely aware of the importance of dealing with data correctly because our customers are outsourcing their email collection to us and trusting that we process the email addresses of their users in a compliant and safe way.
If you have Single Opt-In enabled, your subscriber's email addresses are passed directly through to Sendgrid and are never stored in our database. If you have Double Opt-In enabled, we store each of your subscriber's email addresses until they click the link in the email they received to confirm their subscription. We then remove the email address from our database. If they haven't done this within 48 hours, we remove the email address anyway so we are not storing data any longer than we need to.
Your subscriber data is of no interest to us because we are not in the business of selling data. We build tools for developers so customer email addresses do not help us create better technology.
We have an entire blog post dedicated to SG Widget Security so you can read more about it there if you wish.
Conclusion
SG Widget is a powerful Sendgrid Subscription Widget for Shopify. Until this point, it was difficult to collect the email address of anyone that visited your store without making a purchase but now SG Widget allows you to link your store with Sendgrid without having to do any technical work or coding.
You can place it anywhere on your site and it's perfect for a blog, where readers aren't necessarily looking to buy right now but could be converted later if you just collected their email when they are engaged.
Give SG Widget a try in your Shopify store today and let us know how you find the experience in the comments below.